Here is the content of our kit bag:

A Sony Vaio PCG-C1XN Picturebook:
With a 266Mhz celeron, 128Mb Ram, a 6Gb Hard disk and the built in 270,000 pixels Motion Eye camera its a winner on its own.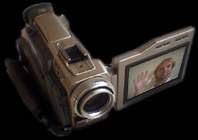 A Sony TRV8 Mini DV Digital Handycam:
Connects directly to the Vaio through the iLink port, we can effortlessly import video at full PAL resolution (720x576) at 25fps. The DV gate software that comes with the Vaio offers full device control for motion and still capture.
Peripherals:
A USB floppy drive, CD-RW drive and mouse. A Modem/Ethernet PCMCIA card.

We Run Microsoft Windows 98 along with a whole host of other applications: Microsoft Office Suite, Adobe Photoshop, Adobe Premiere, Macromedia Dreamweaver, Macromedia Flash, Sonic Foundry Sound Forge, and quite a few more...