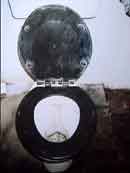 Yolanda's bit
Not quite. Ratty-Gaggy turned out to be just like a little annoying bug with banks that wouldn't give us any money, rickshaw driver who ripped us off with the help of a bunch of supporting Indians who surrounded us with no other choice than paying, and an overcrowded stressing bus trip to our destiny place: Ganpatipule.
Oh Oh so nice!!! We found our little paradise to enjoy for the next 10 days. We found a room in a luxury hotel just for that night and the weird feeling started.
Already on the bus an Indian woman had asked me if we were going to the ladovihtjeigesigfe event. I assumed it was some kind of religious thing maybe at an ashram. Then we started to see all this people with tags hanging from their necks in which I recognized the picture of Indian woman with a red dot on her forehead who I know from London.
She's the founder and guru of this international spiritual hata yoga movement.
The event everybody was going on about was a congregation of her followers. After a quick stroll on the beach, where everyone was bathing dressed from head to toe (oh - oh), our quest now was to find a hotel for the rest of our stay.
There were NONE.
The whole place was full of rich conservative posh Indians who walked around with their families, posing in front of the other families, all with yoga-guru tags hanging around their necks and looking in a despective way if not ignoring completely the two or three poor foreign tourists like us unluckily lost in the place.
The rest of them would arrive next day when the event started and had taken up all the rooms in town.
Meals were only at set hours so it was a bit hard to have a bite and we hadn't had anything to eat all day. Sitting in front of our snacks in a café and studying our desperate situation, a young Dutch couple joined us (I bet they were happy to find the only other westerners in town). They were leaving in a couple of hours to Bombay by bus and had 2 spare train tickets to Bombay which they were not going to use because it was leaving too early next morning.
We chatted about the weirdness of the place and how they had decided to leave because of this and because the price of their beach hut was going up 6 times the day after.
Very friendly-normal guys, talked about traveling, he was a furniture maker and she was an art student. Sounded like a sweet happy life back in Amsterdam. Meanwhile, some invisible huge mosquito vampires were having a feast on my legs. Wrong day to wear shorts.
Their bus was leaving in an hour and off we went in a last attempt to find a room for the next few days even if we had started to hate the place already. A hell of a paradise. After a couple of "no, sorry" and even a hotel owner telling us "if I were you I would leave tomorrow", we rushed back just on time to catch the Dutch guys who were already on the bus about to leave. Through the window we accepted their train tickets and said "see you in Bombay maybe". That left us another 4-hour-only sleep night. We went for a final spliff on the beautiful beach seeded with hundreds of black sea-stars.
4am. Rickshaw to the train that was supposed to leave at 5.45 and only departed 4 hours after. It was an ordinary class sleeper with no much room left by the fat all-directions expanding Indian family and the heat of the sun full on. We had a master plan (and no money left).
We got a taxi to the airport, bought two plane tickets with Air India to Chennai (Madras) on the opposite side of the continent and managed to exchange some travelers cheques. The flight was very delayed and we had some seven hours to spare having a magnificent meal with a cocktail Molotov which was supposed to be a screwdriver, watched Barcelona-Italy match of the UEFA (Miles did, I looked at their legs) and some nonsense snooker games.
And fly, fly, fly again. Such easiness, so much comfort, I had the idea that a different way "to be a traveler" and write a journal about it (everyone's doing it. It's disgusting) would be not the rough hippyish going-through-all-sorts-of-troubles-and-acrobatic-episodes way, but the top luxury flying everywhere, taxis all the time, magnificent meals and top hotels way. Bit of a contradiction? I'm sure it'd be boring (eh eh)
The boy from the hotel was waiting for us with a small private bus which took us to a wet with rain and jumping frogs hotel.
It was Christmas Eve and Joseph and Maria finally found shelter.
Watching the TV news we found out that ANOTHER Air India flight Katmandu-Delhi had been hijacked and taken to Afghanistan at about the same time as our flight. Hosts are still being held in the plane and terrorists are asking the Indian Government to free 35 Kashmir separatist prisoners. We slept well into the next day and by the evening we were in Mamallapuram.