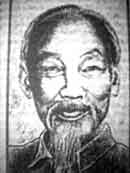 Yolanda's bit
We flew (lazy bastards!) from Danang to Ho Chi Minh City (Saigon). Miss Loi's guesthouse, 5mins. from backpackers' land, housed us in her different range of rooms - including her own - in between our different trips in south Vietnam.
Saigon is a bit of a hell. Traffic is horrendous (by now we knew the trick the locals use to cross the death threatening wide roads: without thinking about it, start walking very slowly and never stop. Thousands of roaming motorbikes will work their way around you magically as long as you walk slow and don't stop. Scary but it works) and it has all the maladies of any major city.
Once more, mind boggling heat. It was the place to stop and stock up for the next trip and sort a few things out in backpackers' land which, similarly to Khao San Rd in Bangkok, is a street loaded with restaurants, shops, internet places and travel agents.
Mekong Delta in southwest Vietnam is quite an exploited and overpriced tourist spot. To explore it, once more you have to stick to the Government organized boat trips which cruise its multiple canals. Apparently the only town you could go to avoid this was Ben Tre, from which you could cruise around the Mekong arranging trips with the local boatmen.
So that's where we went. It felt good to break from the tourist group which we had to join to get to the nearest big town. Freed from the flock at last.
Ben Tre was a small town with no much to it if any. Two government hotels, two restaurants, a lake and the river. As it became obvious, it was not a tourist place at all and we kept being stared at and smiled at (kind of you're going to regret being here very soon type of smile).
It was hard enough to get some food (only with meat). No one spoke any English and our Vietnamese hadn't improved much. This promised to be an adventure but we decided straight away would be as short as possible.
Next morning we set out to find our boatman for a little cruise. We went round the market on the riverside and we bumped into a jolly anti-Communist old man (one of the "boat people" as we learned later on) who offered us coffee and (uh! Something to note about Vietnam coffee: it's great. They make it in their tiny individual size Vietnamese version of what it could be similar to an Italian cafetiere) started chatting to us in English telling us about his restaurant in south London.
He brought us to someone who could help us with the boat thing.

That's when we met "Jack". He found us before we found him, somehow the word had spread that two foreigners were about to look for a boat. The old man said good bye with a displeased grin and that was - Jack explained - because he didn't like the Government and Jack worked - or so he said - for them. We set the deal with Jack and off we went with him and "Conhell" the driver on our few hours boat cruising of the Mekong Delta.
Jack was a hyper. Talk talk talk non stop. He was 17, no family, was taken care of by an English woman who had this charity set up in the US to help Vietnamese children. That's where he got his cocky American accent and attitude, quite funny though. Now he got by with the tourist business. He was very smart and we had a good time.

We stopped by a family friends of his who offered us some mangos and fresh coconuts that Conhell climbed to the palm tree to pick up - and dangerously throw - for us.

After a bit more cruising we visited the coconut candy factory. About 50 women in a small room hand made these delicious candy from mixing and boiling the paste made out of coconut and sugar, to wrapping the little squares one by one and box them. We were a bit of a revolution in the place, especially Miles.
The trip was over but Jack was determined to be our escort for the time we were in Ben Tre. He brought us to meet the family he works for, extremely friendly as usual, our jaws were aching from smiling all the time.
There was a very strange special event going on in town. Some kind of Buddhist commemoration of Ho Chi Minh death in a pagoda. It lasted 24 hours and there was free food for everyone.
Before we realized what was happening, Jack had brought us there and was introducing us to everyone.
They all seemed to be different grades of monks or government people or both. The chief sat at the table with us and seemed to be very honored with our presence and so were the others. We were treated and served with such respect we felt embarrassed and didn't know quite how to behave except for keeping up our fixed grin.
Jack was very much at ease with everyone. There as everywhere else he was known and appreciated by all.
After this nice and strange dinner, we said bye till the next day when Jack would arrange our trip back to Saigon. So he did, on a public bus, first one we took in Vietnam.
Absolutely crowded in the Indian style, we were target of nonstop stares of shock and amusement. After a little incident of a child pissing on Miles's back while he was making space for the petrol tank under his seat to be filled in, we arrived to Saigon flooded to the knees main bus station.
Back in backpackers' land, we bumped into Jack who wanted to take us everywhere, help us with everything and arrange our next trip to Dalat. He rented a bike and made numerous (half of them unnecessary) trips with us to bank, bus station, post office, etc.
In one of those I caught him on a blatant cheat with the bus tickets price. And then he wanted to borrow some money till next day. I couldn't trust him anymore but I wanted to make sure I was right. We never saw him again. Shame.
It was a bit sad meeting someone nice and helpful and once again it's all fake, well, maybe not all.

Dalat was fun. Set up as "Paris of the east" with its own Eiffel Tower for both Vietnamese and foreign tourists. The kitsch of the kitsch. We met Claire on the way and spent a few days together. Visited the "valley of love" and yet another beautiful waterfall with horribly caged monkeys, bears and crocodiles, locals hiring traditional fancy dresses for pictures and cowboys as tourist attraction. Disneyworld.

We went to Chicken village, with a huge stone chicken in the middle. We were made to listen to some music played on woks and flutes by the locals and played them too. We visited some horrid emperor's house where all Vietnamese were posing in luxurious beds for pictures and the "Mad House"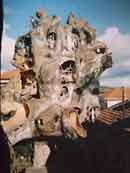 which is a surrealistic architecture of some kind of hotel which is at the same time a show for tourists, so you could rent a room there and have tourists poking in your room and taking pictures at it. Impressive.
We also visited the crazy monk at our own risk. He's a Buddhist monk who lives alone in his temple. He paints all day, has thousands of paintings in his studio. If he likes you, he shows you around and tries to sell you a painting. He's charming and he makes lots of money. He's been years saving money to travel round the world, some wonder if he ever will.
Tour guides don't go there, they say he talks too much but there seem to be other reasons like jealousy and moral issues. Some localbtold us a nasty story about him trying to rape some girls. Who could tell.
We visited another artist, poet, musician and painter whose house-studio is also a café. He chatted with us and showed his work. Once more, xtremely friendly.
Back to Saigon and off to Bangkok again.



Miles's bit
Highway 1 the main north-south road is appalling, so we took a flight from Dalat to Saigon (now called Ho Chi Minh City). The train was only fractionally cheaper and would have taken ages. We found a room at the delightful Miss Loi's Guesthouse. Miss Loi herself looked like she was straight out of the '50s.

Saigon's streets are worth a mention - they're almost impossible to cross. We followed the example of an old lady we saw effortlessly crossing. The trick is to just boldly step out into the traffic (of mostly mopeds and bicycles) and keep a slow steady pace - the traffic will then flow around you. Whatever you do don't hesitate or stop as this confuses the oncoming cyclists and they crash into you. Its a bit unnerving at first but you soon get the hang of it. Seriously, it works!
After the tightly controlled tourist trips (traps) of the more communist North we decided to try and do our own thing and headed out to the Mekong Delta for a few days. Unfortunately the only way out there was on a tourist bus.

One of the stops it made on the way was at a pineapple plantation. I was surprised to find that pineapples don't grow on trees, they grow on the ground from bushes. I didn't know this and had always pictured them hanging from palm trees or something.
We arrived in the quiet town of Ben Tre and found the hotel that the Bus driver had recommended. Our first night was a bit tricky, being a non-tourist area nobody spoke English. It didn't get much better the next day either.
We had a wander around the market and while buying some water we had the good fortune of meeting an old guy who said he was from Lambeth. He had been in exile being a political refugee, a so called capitalist sympathizer (those that fled to Hong Kong were know as boat people). He was flying to london 2 weeks later where part of his family have a restaurant in Ealing.

We wanted to take a boat trip and was going to help us sort this out but we were intercepted by a couple of young guys of which one spoke good English. Word must have got around quickly that we were in town as they know where to find us. The Old man, slightly reluctantly, left us with them. They 2 guys asked us a few questions about the old man and seemed to make derogatory comments about him. There is still some visible hostility to western sympathizers.
The Boat trip turned out to be a good one - our guide "Jack" had spent some time with a family in the U.S. and was chatty and informative, if a bit pushy. We chugged down the tributaries and visited the family of the boat driver where we had mangos and coconut water straight from the trees. We also visited a coconut candy factory - about 30 women mixing, chopping and packing coconut toffee. That evening aour guide Jack took us for an interesting meal in the local temple. It was Ho Chi Minh's birthday or something and there were loads of people in robes and stuff. The food was awful but free (well actually you had to make a contribution) and it was too difficult to refuse. Lots of motherly women surrounded us and kept bringing dishes and putting it on our plates. It was all a bit weird but we felt quite privileged to be included.
Jack helped us get a Bus back to Saigon the next day - on the bus a small child pissed on my back, and when we arrived at the bus station in the suburbs the area was flooded in a foot of water.
We spent a couple of days bumming around in Saigon not really doing much before sorting out a visit to Dalat - a hill station a few hours away. Dalat was pretty tackey in places. There were a few of the regular backpacker places to stay and some good food. We took a couple of fairly poor tours - the guide was not much good but some of the places we visited were, well, quite wacky by Vietnam standards:
The Ex-Kings country residence - grand rooms with grand furnishings. What was funny was that the place was full of Vietnamese dressed in evening gowns and best suits posing for camera shots - draped on the queens bed like a cover model, sat in the Kings study holding the telephone in terrible fake poses - like I said, very tacky but they seem to love it.
Another ethnic minority village where they played funny gong things and drink a nasty rice wine.

We visited a crazy monk painter (all the Bhudist monks we've met so far seem to be a bit odd). He does Zen paintings - see the picture, and sells them to tourists for 5 USD a go - a smart businessman and reputed to be the richest person in the town. He says he is saving up to travel the world. I bought the painting in the picture.
Lastly was an avant-garde painter/poet/musician who has a cafe in the town. We went for coffee and cake while we chatting with him he put a flower in Yolanda's hair and took a photo. He was quite charming.
Back in Saigon we made preparations to leave for Bangkok. Our last visit was to the War museum where there was an odd collection: the usual munitions and weapons, tanks and bombs. What was different was the portrayal of the U.S. Not surprisingly they are not shown in a particularly favorable light.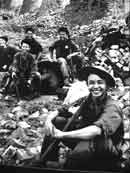 Much was shown of the brutality of the U.S. troops and also the extensive use of chemical warfare that devastated most of Vietnam's ecology. Nasty stuff. Once you've learnt a bit about the Vietnam / American war and seen both sides of the coin its amazing to see how the country has regained its charm recovered from it enormous loses both of lives and, well everything. The Vietnamese are the smiley-est nation I've encountered!