Yolanda's bit
Bangkok - Hanoi, Vietnam. On the taxi from the airport we were completely taken by the charm of the co-driver who made it impossible for us not to visit his hotel. An amazingly decorated Imperial style room with ornamented wood and marble furniture, a full wall size golden framed mirror and a full wall size landscape painting (which, for the first time, was not nauseating).
Very spacious with super luxury bathroom and a balcony. A super kitsch set up.
The city is very amiable to live in, very pleasant. It was comforting to see young couples kissing and playing round the lake in the center of the old town at night.
In the middle of the lake, a pagoda. City of very French flavors, lots of nice little cafes, heartbreaking smiley faces, sometimes unnerving gentleness and politeness.


Cyclos are two seater kind of baroque ornamented sofas driven from behind so the cyclist head is just above yours and you are driven straight into the maddening traffic of mopeds and bikes with no protection except for your feet.
The old part of town is a succession of pretty streets with the names of the trades they house. The shoe street, the mirror street, the toys street, leather, bags, metalwork, Buddhist altars street, all perfectly organized.
After a couple of days enjoying the city, the marathon started. Looking at the best ways to do our exploration of Vietnam, we soon realized how difficult it would be to do it "off the beaten track".
All possible trips were organized as one, two, four days tours with everything included and worked out at prices you couldn't beat if you tried to do the same thing by yourself.
The entire tour business was monopolized by a Government run company "Shin café". Every agent in the country with rare exceptions dealt with them. The alternative is motorbike rent with or without guide which is exciting but it may work out more expensive and it's not always convenient (monsoon heavy rains etc.).
Government air-con minibuses with guide of up to 12 people capacity pick you up at 6am (national communist waking up time) and take you to the main spots, throw you off for a while and pick the herd up again and so on. Exhausting.

First we went to northeast Halong Bay and Cat Ba Island for 2 days. Amazing sea rock formations and grottoes all the way on a boat.
Sapa Hill tribe village. Northwest treasure of Vietnam ethnic richness. Four days (with cold nights. Hurray!) getting up at 6am to go trekking in the bordering China high mountains and visiting the enchanting wild and colorful hill tribes called "the minority people" by the Vietnamese.
Made me think of Tibetan people for their glowing charm and radiating happy inner peace and of the American Indians for their wilderness and stories of kidnapping women from town.
The night before the longest trek I got really drunk with some Australians and lots of Vietnamese wine. Nest day was a bit of a hell going up and down mountains and beautiful waterfalls.
We were a good group of about ten people and the experience was great.
Of course, I bought some clothes hand made by the Hill tribe people.
Back in Hanoi, our impression of the country so far was so positive, we decided to give Vietnam one month instead of the planned two weeks.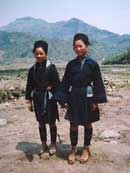 Miles's bit
N-N-N-N-Nineteen, Nineteen. Vietnam - I think I had to many preconceptions about this country before I got there but they were soon dispelled.
Hanoi, the capitol city in North Vietnam had an almost temperate climate in March/April which was welcome after Thailand's heat. We taxied from the airport to a hotel in the city, 15 USD got us a grand room with plush teak furnishings and a groovy bathroom. Hanoi itself was quite a relaxed place with pleasant architecture and much greenery and many lakes. The Old quarter in which we stayed was a myriad of small market streets each one dedicated to a particular trade and were named such: shoe street, fish street, hat street etc.

On a tight schedule we booked a couple of tourist trips around the region. The first was a 2 day boat trip to the northeast to see the many small island thingies with lots of caves and grottoes. Most of the time was spent on the boat itself just getting there but that was nice enough as the scenery was quite spectacular.
The second was up to the Northwest Highlands right on the Chinese border. We visited ethnic minority villages of the Black and Red H'mong which was fun and interesting but ultimately contributes to their cultural decline just from our presence (and the many others who visit each year).
Back in Hanoi we decided to extend our 2 week stay to a month - Vietnam is not as difficult as I thought it would be, the people were very friendly and we wouldn't have to rush about as much.
On our last afternoon in Hanoi we visited the Airforce museum - lots of rusting Migs outside and exhibitions about the brave VC pilots and how many US aircraft they shot down. It was interesting to see the way the Vietnamese perceive what they call the "U.S." war. We we to see more of this as we traveled south.