Yolanda's bit
Sleeper train from Hanoi to Hue, mid-east Vietnam. From then on we would start to see the same tourists repeated in every town we went. We were all doing the same thing!
We tried the motorbike thing in Hue with the friendliest, most engaging people. It was too much. Bad luck it was raining like hell, but they took us to see the Japanese bridge with a sad story behind it, the King's Pagoda, the Monastery with the car and picture of the monk who set himself on fire, to enormous house-temple-tomb of this crazy king who had 100 wives, no children and a "broken banana" according to the bikes woman and finally to the temple where we were just on time to see the Buddhist monks chanting and dancing.
When we were leaving, we were honored with a demonstration of Kung Fu taught by one of the young monks to his even younger disciples. It was deeply moving.
We ended up spending the evening with the hyper friendly bikes people, drinking beer, listening to music and chatting.
The DMZ. One day. East to West. We were shown pictures, we were told stories, we had to imagine the rest. Desert where there had been war and all that came with it.


The Vinh Moc tunnels were impressive with their minuscule cavities for sleeping, cooking, toilets, meeting rooms, maternity hole, etc. Someone taller than me would have had trouble just to go through. Three levels of 28km of tunneled darkness lead, like in a persistent nightmare, to the light of a beautiful beach. Deep breath.
Hoi An Even if Vietnam is turning out to be more expensive than we thought, what you get is of a much higher standard than what we've seen so far in southeast Asia.
For 10USD a night we were staying in a hotel which felt like a palace served by beautiful oriental hands and smiles.
Hoi An is a pure delight. The natives are beautiful, heartache friendly, food is deign of Gods.
There are no cars in Hoi An A very laid back town, bicycles fill the roads.


It's also a historic beauty and Pagodas, Temples, bridges and old Mansions abound.
Local boats will take you along the river to see ship building, banana plantations and also the market, situated on the riverside, can be reached from this other perspective. All round, boats serve as transport, kitchen, shelter, siesta break, storage to the market people who keep coming and going from their food stall to their boats. Floating temporary houses converse with each other in the heated animated morning.

There are about a hundred tailor shops in Hoi An and they all have a business card (which look pretty much all the same. "Same same but different" - ah, no! that's Thailand - Pink with glossy ornamental patterns embedded, Lucida Handwriting type of font in blue or red). By the end of each day, you'll have about 10 of these in your pocket unless you've been quite rude to the locals.
When we were finally fished by one of the tailor shops, we found the right answer to stop accumulating tailors' cards: "thanks, but we are having clothes made already". Then they turn away with a smile. Life is so simple sometimes.
Our plan was to have a silk suit made each. They're about 20USD, of great quality and made overnight. They have all kinds of beautiful silks (mainly Japanese and Vietnamese). But,… after the suits came a few trousers, followed by boxer shorts, a couple of dresses and three kimonos.
There was a quiet beach 10mins. by bike for when we got beach-sick.
A bit of a disappointing visit was the remains of the Kingdom of Champa in My Son. The semi-piratic Chams from the 2nd to the 15th century lived there and became indianised through commerce, adopting Hinduism, Sanskrit language and borrowing from Indian art. But the remains were just that and there was not much to see.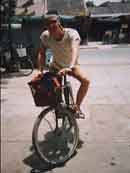 Miles's bit
We went south on an overnight sleeper train and arrived in a town called Hue for a couple of days. On the first afternoon we were enticed into a small friendly family run outfit offering motor bike tours. The overwhelming lady doing the hard sell persuaded us with her many guestbooks and photos from satisfied customers, it was very genuine so we hopped on the back of 2 bikes with her brothers and sped around the countryside in the rain for a few hours. It turned out to be the best tour we had in Vietnam.

The highlight for me was a Pagoda with Buddhist monks who after their praying and chanting had a good old Kung Fu session - the real thing at last. Another place, a King's Palace Tombs, amused me with its uncanny resemblance to a Quake deathmatch level. See video.

We to the Obligatory tour of the DMZ (the demilitarized Zone). Highway 9, Khe Sanh Combat Base, Hill 881, The Rockpile etc. There isn't really a lot to see and you have to use your imagination somewhat. The Vinh Moc tunnels were the most well preserved - a huge 3 level tunnel complex, huge in length but small in height and width. Its shocking to think that people lived in these tunnels (in fact children were born in them).
Next stop the town of Hoi An, a cozy little place that is traveler friendly (i.e. cheap rooms, banana pancakes and Internet connections) One of the attractions of this town is the 60-ish tailor shops that line the streets. Here they knock up a whole wardrobe of outfits in just a day copying designs straight out of fashion magazines. Yolanda and I couldn't resist its and we ended up sending back a few packages of clothes to the UK. One of my bargains was a tailored cashmere suit for, get this, 25 USD!!! Incredible.


We spent a few days here and slowed down the pace a bit. The beach was so-so (compared to Thailand) and we took a fun trip on the river. Also looking around the town we saw some interesting Chinese architecture (bridges, temples etc.) Oh also our room had a TV with MTV which was cool (until the novelty wore off).